New Products

From product enhancements to completely new innovations, we're currently developing tomorrow's truck storage systems today with even more security, flexibility and versatility. Take a look at what's new!
New Large Capacity WEATHER GUARD® Transfer Tank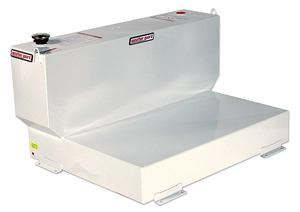 Designed for transporting diesel fuel, the NEW WEATHER GUARD transfer tank has an increased 110-gallon capacity and a new interior baffle design that reduces non-flammable fluid movement and provides extra tank reinforcement. The 2-inch I.D. filler neck is threaded to accept standard 2-inch threaded pipe.
The WEATHER GUARD® transfer tank is constructed of heavy 14-gauge steel and is fully arc-welded, providing long product life. The tank's exterior is protected with a Brite White powder coat finish. Heavy-duty lifting loops aid with installation, while plate-steel flanges provide secure mounting points. Mounting hardware and one vented filler cap are included.
"The new WEATHER GUARD® L-shaped steel transfer tank is the largest of its kind in the industry and provides increased productivity on the jobsite," said Mike Sover, senior product manager, Knaack Manufacturing. "A lot of in-depth research and development was conducted to provide a reliable and durable transfer tank."
Learn More! - PDF 891 kb