Tractor Mounted Belt Drive - 130 CFM

Download Printable Brochure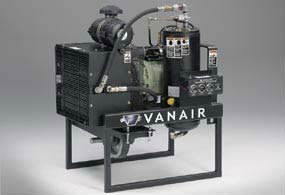 Ideal for clearing irrigation systems, underground sprinklers, equipment radiators, and providing air power for pavement breakers, rock drills, sandblasting, and other maintenance tasks, the Vanair TMBD offers quick and easy mounting to your tractor's three-point hitch to deliver portable power when and where you need it.
Specifications
Capacity (CFM)
130
Air Pressure (psi)
100
Input Speed (rpm)
1000
Output Required (hp)
33
Drive Belts
Three "5V"
Fluid Capacity (gal.)
2
Compressor Dimensions with fittings (in.)
34L x 34W x 49H
* Options available for 125 or 150 psig
** Additional hp needed for 125/150 psig
*** 1000 rpm tractor PTO required for proper compressor input speed.
SPECIAL FEATURES
Rugged skid mounting ideal for harsh off-road conditions
Lightweight, compact design
Easy service and maintenance