EF4500iSE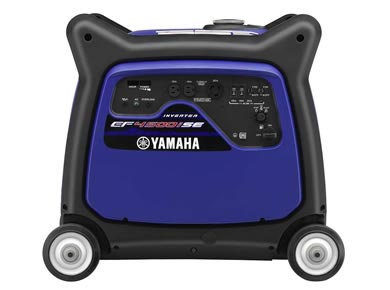 Download Printable Brochure
Introducing the all-new EF4500iSE inverter from Yamaha. This mid-size portable generator falls into our line-up just after our very successful EF3000iSEB and comes packed with even more power and fuel efficiency in a quiet, portable package. The EF4500iSE was designed for maximum fuel efficiency and minimum noise, qualities which make it the ultimate RV accessory. Housing the most powerful engine in its class allows our biggest inverter to run at the very low engine speed of just 2600 rpm - 1000 rpm lower than other generators in its class. The slow engine speed translates into reduced fuel consumption as well as less noise, vibration and engine wear. Of course features such as Yamaha's infamous reliability, durability and four-stroke fuel efficiency come standard.
Features & Benefits



Whisper quiet operation at 58-60 decibels
With a maximum output of 4500 watts and a continuous output of 4000 watts, the EF4500iSE is just what you need for running an RV 15,000 BTU air conditioner and 1000 watt microwave oven, or two other major RV appliances simultaneously
Up to 7.4 hours running time at full rated load between refuelling (15.2 hours at 1/4 rated load)
Pulse Width Modulation Inverter System produces a sine wave as clean as or cleaner than household electricity, making the EF4500iSE suitable for computers, televisions, satellite TV systems and other sensitive electronic equipment and appliances
Electric start serves up effortless turn-key operation
Automatic choke makes for easy starting even in cold climates
Optional remote control enables start and stop of the generator from a distance




Engine Control



Low Oil Warning System shuts the engine off to protect the engine if the oil level drops
Power Meter is easy to read and indicates the amount of power being used and the amount that's available
Hour Meter displays the amount of running time accumulated to indicate servicing or refuelling interval
Twin Bar frame design gives better grip capabilities to lift and load the EF4500iSE
The four-wheel design allows for greater portability and the parking brake helps ensure it won't roll away




EF4500iSE INVERTER SPECIFICATIONS
MODEL
Type
Inverter
Maximum AC Output (Watts)
4500
Rated AC Output (Watts)
4000
Total Ampere (Rated / Maximum)
33.3 / 37.5 @ 120V
AC Voltage (V)
120
Frequency (Hz)
60
Voltage Regulator
Inverter (Pulse Width Modulation)
Neutral
Bonded
AC Receptacle *
15A + 15A 125V 30A/125
ENGINE
Type
MZ360: 4-stroke, OHV forced air-cooled, single cylinder
Displacement (cm³)
357
Maximum Horsepower
12
Fuel
Gasoline
Starting System
Electric
GENERAL
L x W x H mm (in)
780 x 616 x 692 (30.7 x 24.3 x 27.2)
Dry Weight
88kg / 194 lb
Fuel Tank Capacity (litres)
17
Operating Hours (@ 1/4 load)
15.2 hours
Operating Hours (@ rated load)
7.4 hours
Noise Level (@ 7 metres)
58-60 dBA
Battery Type
Standard (m.f. type)
TECHNICAL FEATURES
(NFB) Non-Fuse Circuit Breaker System
Yes
Auto Choke
Yes
Smart Throttle
Yes
Pilot Lamps (AC output)
Yes
Warning Lamps (overload / low oil)
Yes
Power Meter
Yes
Hour Meter
Yes
Oil Watch Warning System
Yes
Fuel Level Gauge
Yes
Silent Type (enclosed design)
Yes
Spark Arrestor (muffler)
Yes
VOLTAGE FLUCTUATION
Instantaneous
Less than 20%
Setting
Less than 3%
Setting Time
Less than 2 sec.
Frequency Stability
± 0.1 Hz
ACCESSORIES
Transportation Wheel Kit
4 wheel standard
Remote Control Starter
Optional
WARRANTY
Non-Commercial
** 2 years limited


* Refer to Total Ampere specification for maximum available output.
** 2-year warranty on gas-powered generators, for non-commercial use only. See dealer for commercial warranty coverage. Alternate fuel generators and water pump receive one-year warranty (non-commercial use). See dealer for details.