About Yamaha Inverters
The New Yamaha Inverter Generators are next-generation portable generators featuring a microcomputer-controlled inverter system. This technology sets the new standards in compact lightweight portability, quiet operation and clean high-quality electric current.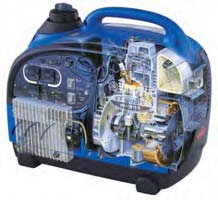 Download Printable Brochure
Silent Design for Very Quiet Operation
Generating electricity can be noisy, or at least that's how it used to be. You'll be pleasantly surprised how much quieter inverters run! That's the result of features like our Smart Throttle System, a large-capacity air silencer and special muffler design. All engine, intake and exhaust noise are reduced, while maintaining quality performance.
High-Quality Electricity
Inverter technology regulates the electrical output using Pulse Width Modulation (PWM). That means our inverters deliver a "pure" sine wave with full width and amplitude so you can use them with confidence as a power source for computers, solid-state appliances with built-in computer functions or microcomputer-controlled power tools.
Outstanding Fuel Economy
Keep fuel costs to a minimum thanks to Yamaha's Smart Throttle System. It regulates the engine's RPM in relation to the amount of electricity required. Working together with the Over Head Valve (OHV) engine design, you'll spend less on gas with longer running times between refueling stops.
Environmentally Friendly
The engines found in inverter generators offer a high level of combustion efficiency, which produces a clean exhaust, making these models a wise choice to protect our environment.
Lightweight and Compact
Our inverter generators are built with a multi-polar alternator, creating an excellent power-to-weight ratio. Inverters use fewer parts, making them ultra compact and lightweight. Enjoy the convenience of portability.