New Products

From product enhancements to completely new innovations, we're currently developing tomorrow's van storage systems today with even more security, flexibility and versatility. Take a look at what's new!
NEW 2007 Sprinter Van Solutions Storage System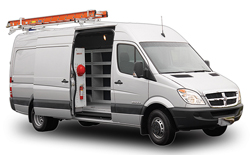 The WEATHER GUARD® Van Solutions Product Line announces new products created specifically for the new 2007 Dodge and Freightliner Sprinter vans!
NEW Bulkhead designed for the 2007 Sprinter van separates the driver compartment from the cargo area. The new screen bulkhead (Model No. 85500-3-02) can be converted into a swing door bulkhead using a new hinge kit (Model No. 85555-3-01). The new screen bulkhead is made from 16-gauge steel for durability, security and safety, and fits either standard or high-roof Sprinter vans.
IMPROVED customization inside the 2007 Sprinter van: 18-inch wide, 57-1/2-inch tall tapered end panel (Model No. 8952-3-01) has been added to the WEATHER GUARD Knockdown Jumbo van shelving line. Additional lengths of the 18-inch wide accessory shelves have also been created for the new interior of Sprinter vans.
New models of the WEATHER GUARD EZ-GLIDE® System, an aluminum drop down ladder rack, have been introduced to mount on the new 2007 Sprinter van. The new models are designed for high-roof (Model No. 280-3-01) and standard roof (Model No. 285-3-01) Sprinter vans.
Check out the new products online, download the new 2007 Sprinter Van Brochure, or request a copy.

Sliding Ladder Rack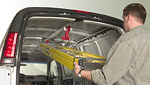 The new Model 250 Sliding Ladder Rack makes interior ladder storage fast and easy. Designed for internal roof or side mounting, this new revolution keeps ladders securely stored and off the floor.
Universal mounting bracket — fits different vehicles
Easy installation
Adjustable rail length
Unique tension locking system
Safety cable — Secures ladder