Body Features
Door Systems
Doors
All Brutus door panels are constructed of 1/8" aluminum with interior stiffeners. The doors are completely smooth and seamless and flush mount into the body. You can choose any style and configuration from single or double vertical doors, single or double horizontal doors, roll-up doors, and even custom flip-up doors.
Flush Mounted Design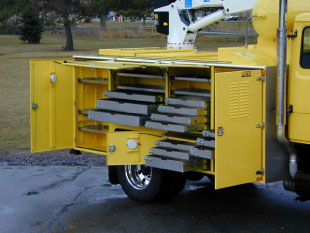 Custom Door Configurations

Roll-up Doors
Seals
Brutus door panels compress into an automotive style rubber "bulb seal" fitted into our unique u-shaped moulding. This design provides superior weather protection and a watertight fit.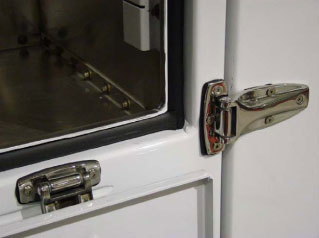 Drip Moldings
Brutus uses aluminum drip moldings that channel water to each end of the body and away from the door openings. These moldings are bonded with glues above each door opening versus riveting which can cause leaks.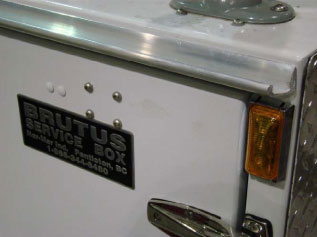 Door Hardware
Brutus only uses high quality stainless steel products for our doors. This includes stainless steel handles with three point latching and stainless wear plates, stainless steel hinges with rubber mounts, and stainless steel door retainer springs with over extension cables. Handles and hinges mount on rubber seals to keep out moisture and are mounted with stainless fasteners.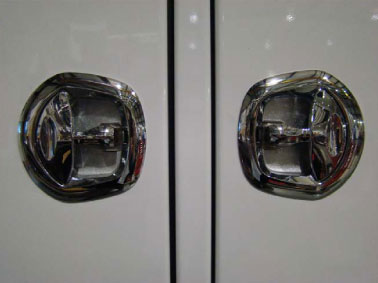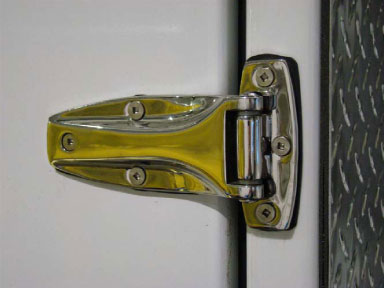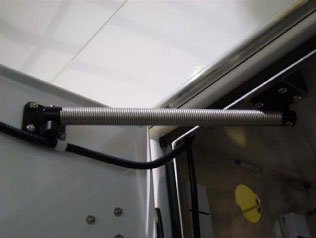 Cabinet Moisture
To reduce the buildup of cabinet moisture each Brutus cabinet comes standard with a 1/2" drain hole with venturi. The venturi draws moisture from the cabinet through negative pressure as you drive down the road. Brutus also offers an optional cabinet pressurization system which over pressurizes the interior with filtered air to keep out dust and moisture.